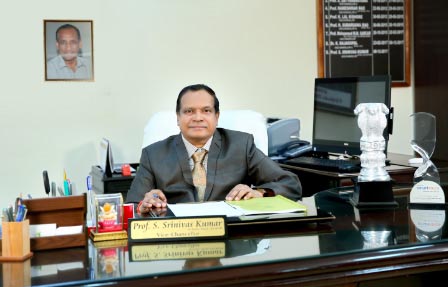 PROF. S. SRINIVAS KUMAR
HON'BLE VICE-CHANCELLOR, JNTUA - ANANTHAPUR
It is great pleasure to me to convey my heartfelt greetings to all the Members of Executive Council, Members of Managements of Affiliated Institutions, Rector, Registrar and Directors, Principals, Students of Affiliated and Constituent Institutions, Teaching faculty, Non teaching staff in the occasion of New Year 2019. I wish them all a very happy and prosperous New Year.

I have completed one year of my tenure as Vice-Chancellor of this prestigious University. It is a memorable experience to me to be with you and be a part of the development of this University to develop the academic ambience, in addition to the development of Infrastructure.

Emphasis is given to start the new courses in the constituent institutions, to accelerate construction activity in the University campus, to develop the research culture by framing the guidelines of R&D, to procure the additional land to this University, to initiate the faculty recruitment following the specific guidelines, are few of my activities during the last one year.
Read More